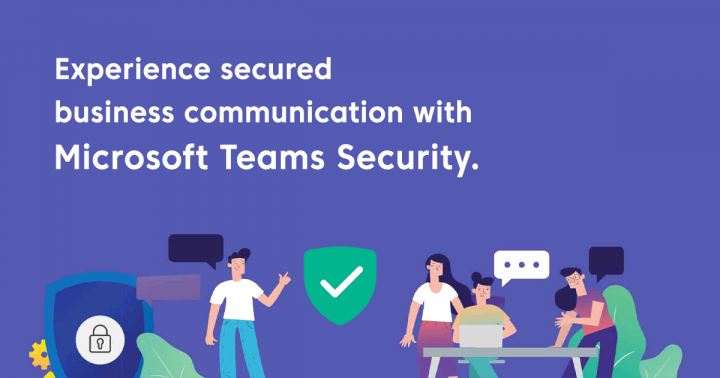 Microsoft Teams security continues to remain on top of all others during this pandemic crisis. Video conferencing for official purpose is not new in the business domain. However, with the rise of COVID-19 pandemic, there has been a great increase in remote workers around the world, since businesses have opted for virtual offices to practice social distancing. The modern digital collaboration tools have, thus, become the focus of business and academic industry.
Amidst this pandemic and health crises in the world, there has been seen a record rise in daily traffic. One service reported a 535% increase in online traffic. However, with the irises in digital collaboration, privacy and cyber security remain one of the top issues companies have to face in these pandemic crises. Some services have, unfortunately, fallen prey to the increased intensity of cyber crimes and thus lost many clients' trust. However, Microsoft Teams Security continues to win Microsoft Teams customers' hearts.
Microsoft Teams security provides top-notch security features to its customers
In the wake of this pandemic, Microsoft Teams has emerged as popular tools where academic and business industry has greatly benefited from it. It has facilitated companies with top-notch collaboration tools like video conferencing, call conferencing, chats, calls and simple messaging. Microsoft Teams is the state-of-the-art digital communication platform that has satisfied customers with all the privacy and security concerns.
Two-factor authentication – 2FA makes Microsoft Teams security reliable
Microsoft offers end-to-end encryption in their own domain (not in telephony domain outside Direct Routing) as main feature of Microsoft Teams security to all of its video conferences and calls. In this way, the customers can easily communicate without any intrusion or eavesdropping within the call or video conference. Microsoft Teams provides a rich set of privacy rules that the platform adheres to. All the data shared within the conference is protected with latest encryption mechanism.
Microsoft further enhances Teams security by enabling two factor authentications that makes Teams reliable and secure from outside threats. In this way, all the business conversation and information sharing remain private between employees. Privacy and security are the focused factors in Teams.
Data is encrypted while at rest and in transit making data sharing secure and reliable. Teams even makes use of AI via chat boxes during meetings to combat any cyber bullying and other harassment behaviors.
MachCloud – The robust platform for Calling in Teams Solutions
MachCloud is an all-in-one digital communication platform that is equipped with all the modern collaboration tools of today. It offers Calling in Teams solution. Its product, MachCloud Solution for Microsoft Teams®, provides simple and reliable solutions for cloud communication for Microsoft Teams. MachCloud Solution for Microsoft Teams® is a fully automated service for end-to-end encrypted calling in Microsoft Teams through Direct Routing.
Head to MachCloud to unleash the power of Microsoft Teams with a modern approach.