The modern era of cloud computing demands Cloud computing services to be more business-friendly. Business is being transformed into purpose-built and intelligent networks for which communication infrastructure plays a lead role. The need for higher bandwidth has never been more critical in the past than it is now. With the increasing Voice services needs from customers Providers are always in search for best Communication infrastructure in order to make cloud computing business to stay ahead of the curve. This includes SIP trunking services and VoIP infrastructure that follows the right fit.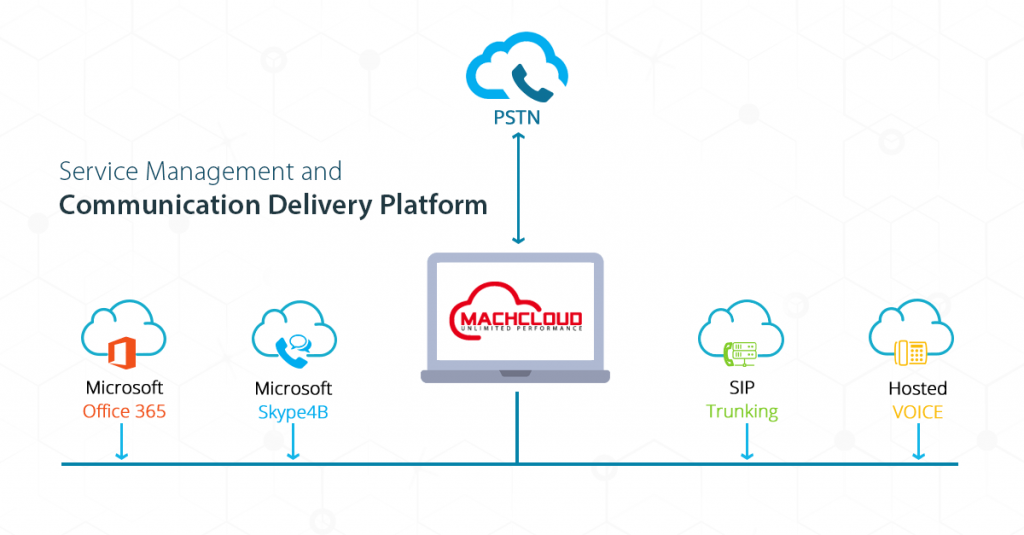 MachCloud has got it all covered
MachCloud is a unique service management and communication delivery platform. Launched to cater the current business needs of Providers, MachCloud focuses on hybrid. It offers SIP trunking services, hosted PBX or Skype for Business connections efficiently managed through a single panel. It also offers office 365 for Exchange Online and other collaborative and productivity tools that are the requirement designed carefully to cater current and future Cloud computing Service Providers needs in mind.
Let's have a deep dive into other major offerings from MachCloud.
Major Offerings
With MachCloud, you are able to get best SIP trunking services with the most flexible manner. It offers a unified solution for telecom, Skype for Business, Office365/Teams. Now, you can manage communication delivery, service management and ordering all from a single portal. New streams of business can emerge once you come to MachCloud. The automated ordering and management solution offered by MachCloud is designed to make sure the partners are in full control of service management. Other major SIP trunking services include: Real-time CDR's, porting on demand, Skype4Business and SIP trunks hybrid solution with one invoice, multiple end user price plans and many more. On top of it, it also gives you the control to Brand your own service.
MachCloud gives you all the major features of PBX-UC with high security and reliability needed for your business. This feature can also be further integrated with APIs and multiple we services are consumed for an efficient service delivery. Major hosted voice features include:  Extensions, numbers, connection to SIP phones, Multilevel Organization, user rights, Voice Prompts, Queues, Conference Box, Voicemail options, Call Forwarding, Dial plan switch. In addition to this, Auto provisioning, Phone status, Dial plan, Dial plan elements, logging- that includes Call Event Logging and User Event Logging, Call Detail Records (CDRs) and Call recordings and Music on Hold.
MachCloud's out-of-the-box advisory services can do wonders for your business since everything is carefully analyses by experts and then you are in control of the decisions to be taken for the pricing plans. MachCloud also offers migration services whether you have hosted or on-premise IaaS or you wish to scale the business infrastructure. MachCloud is your reliable Office 365 partner.
MachCloud integrates Microsoft Azure Cloud services. IT offers you everything needed for a successful Azure integration and service delivery. With best expert from the industry, MachCloud can help you get the best out of the cloud. With PaaS and up to the mark development tools, Azure has a lot to offer that can proved better business insights to you. It also cuts down costs and maximized profitability. With Azure integration, you get best security and compliance. MachCloud offers consultations, design and deployment services and management services.
In addition to Azure services, MachCloud also offers Dynamics 365 services that you make able to boost your business productivity and take informed decisions. This is done through implementing ERP & CRM system that provide all the necessary tools needed for Operations, sales, marketing and customer service. In this way, your business can make use of CRM without additional software.
For best consultation and advice, you can work with our Experts who are skilled to provide Onboarding services, Migration services and Admin as a service. You can get help on O365 admin center, deploying O365 on local devices, Acquiring O365 Cals and much more. 
MachCloud is your gateway to best service delivery
It is the need of the hour that communication delivery, SIP trunking services and VoIP should be streamlined with other business services like Microsoft's 365. Cloud providers are generally in search for a provider that fulfills both needs. Since hybrid is the next-gen thing in cloud computing, MachCloud is introduced to take the concept of hybrid to a next level. It offers flexible plans for you to adopt and proceed with your business ongoing. Reliability and efficiency is all you need for a successful business growth.
Go ahead and increase your business mobility and productivity with MachCloud, your one-stop solution to cloud computing, SIP trunking service and communication delivery management.