Microsoft Direct Routing is a gateway that connect Microsoft Teams with the Telephony network.  Every Direct Routing connection is intended for a single company (single-tenant) and is connected to a Session Border Controller (SBC) via an encryption connection. Nowadays SBC are often offered as a virtual server in a public Cloud service or data center. This set-up carries a security risk.
When an SBC is connected to the telephone network, an unencrypted SIP trunk via the internet is often used. Voice packets are sent over the internet without encryption. In addition, the infrastructure and / or SBC is managed by third parties that can store conversation data. Certainly, if public Cloud Services are used, it is not possible to determine who can access the data and who can access calls.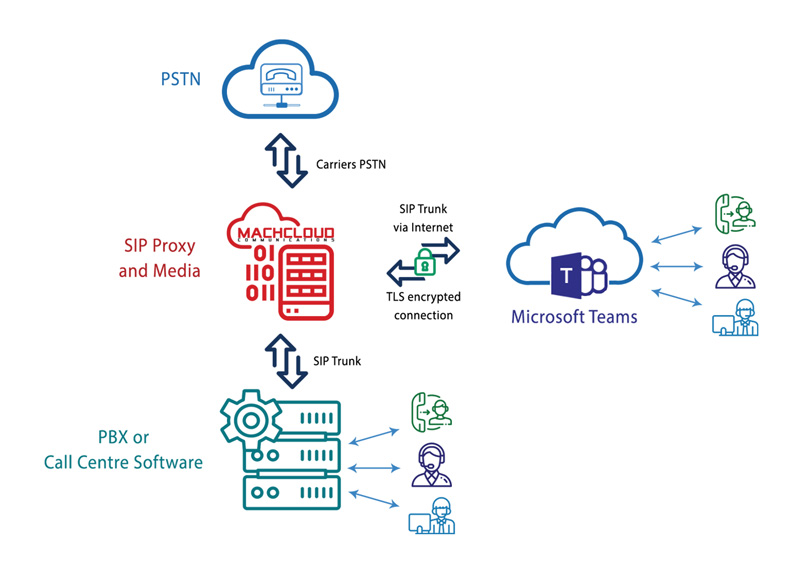 The MachCloud VoIP platform has extended the encryption of speech via Direct Routing to the VoIP platform itself. This prevents speech packets from being sent over the internet without encryption. With this solution it is also not necessary to use an SBC.
In addition, an existing telephone exchange will often be used in addition to the telephone service from Microsoft Teams. The CloudPBX from MachCloud has the ability to control encryption up to the SIP phone. It is also possible to only transport voice over a private network instead of the Internet. Only with these measures is it possible to minimize risks of voice traffic security breach.
MachCloud is the specialist for business corporate communication systems where a (Cloud) PBX is integrated with Microsoft Teams. Do you need advice? Then contact us via www.machcloud.com.
Related Posts: